Suspended Gravity


May 11th, 2013 - June 23rd, 2013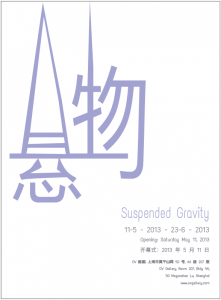 Opening Saturday, May 11, 2013, 5-8pm
May 11-June 23, 2013
In suspended gravity two artists Karin van Dam (Netherlands) and Ed Pien (Canada) examine what it means to be an individual living with in the larger integrated organism of the city, and society.
In this a site-specific collaborative installation, the artists explore material, form, drawing, space and the physical engagement of the viewer — playfully incorporating a variety of materials such as wool, fabric and balloons and building supplies: tubes, drainage pipes and sheets of rubber to form the palette of a new temporary installation. The resulting installation will achieve the effect of a fantasy city.
The installation will also be complemented by a number of other works, van Dam's masses of meticulously constructed mixed media works, "Travelling Cities," and related drawings that are made before and after making the installation. These works imagine a city as a series of orbs, knitted wool planets stretched taught over bases of wood, suspended hanging in space, and unified by long black tendrils of yarn.
Pien's work also involves webs — this time two dimensional — a series of 3M reflective paper cuts depicting acrobatic figures who are negotiating rope configurations flirting with gravity and height. In them we see women who seem both at once trapped within these webs but at the same time engaging with them like playful acrobats, flaunting their ability to adapt to these unstable environments.
Pien and van Dam conceive of cities as webs of human interactions which are binding, but at the same time, flexible and even isolating — an idea which resonates deeply in China's rapidly changing urban sphere.