Refracted Realities


April 9th, 2011 - May 9th, 2011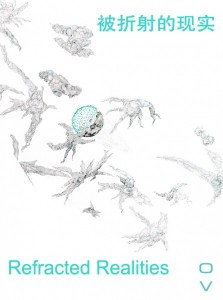 The mind of an artist is like a prism, which bends reality and separates it into different parts ultimately changing its direction. What emerges from the other side of the prism is a whole spectrum of alternate worlds. In "Refracted Realities" we survey these parallel universes and learn how fantasy can be used as a device to explore reality.
This show, which features video, photography, painting and installation, will mark the first show in our new space in Moganshan Lu. For details on our new location see attached map.
Participating Artists:
Maya Kramer tackles the economic base upon which out society is built – examining the value we place on ideas – by creating her own currency system.
Girolamo Marri questions the effectiveness of our attempts to create utopias, using the microcosm of the artist and his own act of creation to look at the idea of personal and societal failure.
Leung Chi Wo takes us on a journey to the suburbs of Australia, re-visiting urban planning theory of the garden city looking at the construction of the suburbs as a utopia and the replication of that utopia throughout China.
Sayaka Abe enters into an even smaller world, that of a Dutch woman named Maria, a shut-in who constructs an identity based upon her jewelry, trinkets and souvenirs.
Monika Lin explores another small insular world – that of expat life – examining how it affects the urban fabric by creating a demand for different goods and services. She uses the metaphor of the jellyfish (an invasive species) to explore how an organism can actually change the habitat in which it lives.
Chen Hangfeng also looks at the idea of urban ecology with a work which documents the practice of guerrilla gardening in the residential housing compounds of Shanghai, the battle over public and private space and the attempts to utopian-size the often-decrepit "new estates."
Ji Wenyu examines this "perfection instinct," the desire to completely control every aspect of one's environment and the growing economic might of China – which, like a giant, creates vibrations wherever it walks.
Wu Ding explores man and his boundless ambitions with a video work which depicts a group of animals leaving on at the last flight out of earth – more specifically, an iceberg buoyed by a cluster of black balloons.
Chen Xi projects this scenario into the future to look at what happens when we've exhausted life on this planet with a series of drawings which depict animal astronauts and forlorn planets of rocks and dwarf trees.
Su Chang explores man's desire to strive, to expand his horizons – with a series of "Discovery Channel" style adventures set in mundane surroundings.
Alexandrine Dévé reconstructs a dream world without concrete borders where national territories are fractured and there is a fluid definition of space and time.
Qian Rong re-conceptualizes history, cutting and pasting and cutting again to produce a complicated picture of idealism and reality, exploring how the idealistic are often used as tools by self-interested individuals.
Chai Yiming uses a world of hybrid creatures – fusions of plants, animals and people ­– to construct an idealistic world which draws on the values of Buddhism, Daoism and Confucianism.
Refracted Realities Curatorial Tour
Sunday, April 10
3-3.30pm
Curator Rebecca Catching offers insights into the artists' practice exploring the meaning and the trajectories of their work. (Tour in English)