What if Objects Could Talk?
March 29th, 2014 - May 26th, 2014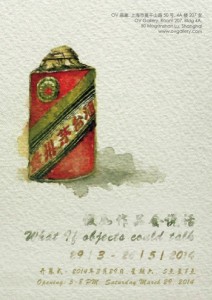 Opening: 5-8pm, Mar 29, 2014
Taking historical objects as its starting point, this exhibition seeks to examine how memories are constructed, how they mutate and are eventually lost. For this show we asked eight artists to contribute works which deal with their own personal memories or the memories of others. Some tell personal stories relating to their childhoods, while other others explore the conceptual aspects of memory. In the pieces, the objects—"baijiu" bottles, thermoses, receipts from a Swiss wedding banquet, locks of hair, antique nightgowns—all carry the ghostly aura of their previous owners. Their presence in the show inspires us to embark on journeys of into the pasts of others and contemplate the temporal rift which now separates us and them.