Make Over
January 24th, 2009 - March 13th, 2009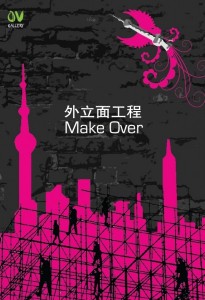 We've all seen it – the warped bamboo scaffolding, the torn up streets, the walls dripping with fresh paint, the city is getting a face lift in time for the World Expo, similar to the process which befell Beijing in advance of the Olympics.
But what lies underneath that glossy white paint? What are we covering up and why? Who decides what will be the new face of Shanghai? This exhibition will explores issues of idealism and image making.
In January OV Gallery will explore this theme in a group show of Chinese and foreign artists. "Make-over" features a number newly-commissioned works, including cutting-edge installation, video and performance works along with works which will take place/be displayed in public spaces.