Learning from the Literati 2
September 6th, 2011 - October 17th, 2011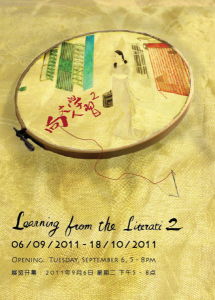 Enter most studios in China and you will find yourself unwittingly partaking in a ceremony — an elaborate ritual of tea which begins with the heating water, pouring, steeping, sipping, draining, whiffing, praising the quality of the tea and returning to the beginning of the cycle.
Cast a glance at the bookshelf and you will find it crammed with classic texts, books of poetry and various ink painting folios; in fact, many artists seem to be able to quote the classics almost as effortlessly as their predecessors.
In this exhibition, part of an ongoing series, we want to take a look at the legacy of China's literati scholar painters, examining their influence on contemporary society. As early as the Han Dynasty, these artists defined themselves from the court painters by bringing a sense of personal expression into their depictions of the landscape — they were Renaissance men, well-versed in law, poetry, calligraphy, and philosophies such as Daoism, Confucianism and Buddhism.
Many played roles as leaders and moral arbiters in their communities, but they are also known for their hermit-like behavior — their tendency to turn away from the evils of society and head to the mountains where they would lose themselves in thought and art.