Crossing Worlds : Wang Taocheng Works on Paper
January 11th, 2012 - January 15th, 2012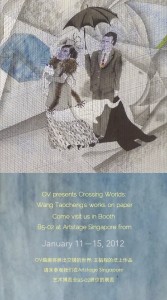 Art Stage Singapore Booth B5-02
January 12 – January 15,2012
OV Gallery is proud to present Crossing Worlds: Wang Taocheng works on Paper. A Shanghai artist now living in Germany, Wang Taocheng stands from a very unique perspective to contemplate social and cultural problems. His ponderings play themselves out across richly detailed narrative work, which is layered with cultural references and full of humor.
"A Romantic Person" has to be one of the most impressive of his works in mere scale. Wang paints as if he's been given a canvas the size of a miniature painting, when he's really working on a scroll which is over 7m long. This scroll tells a number of different stories: that of the artist's attempts to return to a world of classical China, a time gone by, and that of the banalities of every-day life in a working-class housing compound filled with petty squabbles and contests of face.
While some works are narrative in the more traditional sense, other works use metaphor and humor to make a more oblique statement. "Between Face and Lips" for instance, uses the signs of red-light district of Frankfurt as a vehicle to explore the sex economy and the notion of how something seen as being very degrading and crass nonetheless caters to all strata of society even the elite.
Wang has recently moved to Frankfurt and in these new works, we can see a certain sense of coldness and alienation. "Abandoned Bank Garden" for instance depicts an desolate space which was created when the Commerzbank  moved it's headquarters elsewhere. Here we see a reflection on the whims of urban transformation and the effect it has on city neighborhoods, at the same time the work conveys a certain sense of existential malaise.
Exhibition Dates
January 12 – January 15,2012
B5-02 Artstage Singapore
Marina Bay Sands
10 Bayfront Avenue, Singapore 018956
+86 139 1637 3474